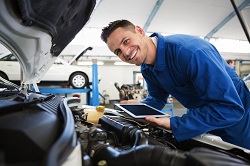 Buying a used car instead of a new one makes good dollars and cents. Low or no monthly car payments means you'll have more cash on hand when you need it most! If you've purchased wisely then you're not likely to need any major repairs on your used car. However, you'll need to perform regular monthly maintenance on it to keep it in good condition, especially if it's approaching or has past 100'000 miles. There are many great high mileage used cars for sale and because of their previous owner's excellent maintenance practices; they will remain great for years to come.
DIY maintenance projects are often easy and cost very little but eventually you're likely to need a professional mechanic. Cars with advanced computerized systems require highly skilled pros that can assess and pinpoint the problem with little or no guesswork. You may be getting yourself into more trouble and more money by trying to do these repairs yourself. So how do you choose the best mechanic for your needs with confidence? Below is a smart guide to help you make an informed and relatively worry free choice.
Ask your family and friends
Especially seek recommendations from those who have a vehicle similar to yours.
Find a shop for your brand of car
Many garages specialize in certain makes. Those that focus on your type are more likely to have the latest training and equipment to fix your vehicle.
Search the Internet
Look for information about local mechanics on Angie's List, the Consumer Reports car repair estimator, and the Mechanics Files at Cartalk.com. Cartalk.com provides those services free, Angie's List requires a subscription, the car repair estimator is free for Consumer Reports' online subscribers.
Check for certification
Your mechanic and shop should be certified by the National Institute for Automotive Service Excellence, or ASE.
Check the Better Business Bureau
Auto repair shops rank 12th on the bureau's list of common complaints. Go to www.bbb.org; the information you find might help you figure out which shops you should avoid.
Give the shop a tryout
Before your car needs a big repair, you might want to try out some local shops with smaller repairs or maintenance items, such as oil and filter changes.
Ask about warranties
What kind of guarantees does the shop give on repair work? Warranties can vary greatly among shops, so ask about them ahead of time. Use a common repair, such as brake work, as your guide.
Make sure the shop is convenient
Even the best shop might not be worth the effort if its hours conflict with your schedule or you have few transportation options after you drop off the car.
I'm also a big advocate of Google reviews. If they consistently get good Google reviews, it is a fair bet they provide quality services. I understand that finding a great mechanic may appear hit or miss but it's not guesswork. Making an informed decision simply requires a bit of investigation. Please feel free to call 757.560.4252 and ask for Mike Love. I am happy to help, drive safe!
Sources: http://www.consumerreports.org/cro/2012/12/how-to-find-a-great-car-mechanic/index.htm
Posted 07/12/2016 in TM AUTO UPDATE
July, Deals, Cheap, Toyota, TM auto wholesalers, Best Mechanic, Car Mechanic, Used Cars, Selling Cars, Car for Sale, Chesapeake, Virginia