Finally! The sun is out, and the road to Summer vacation is calling your name. It's time for a brand new adventure. A weekend in the woods, a day at the beach, a cross-country road trip or just a trip to the store can be exciting with the right set of wheels. 
The Road is Calling Your Name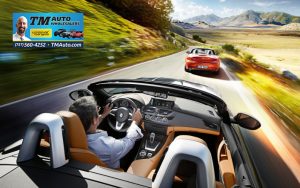 A weekend drive along the coast with the top down could be an epic experience in a sporty BMW Z-4 convertible or 427 Ford Mustang Convertible or the more adventurous 4dr Jeep Grand Cherokee with climbing power, just depends on your cargo! Your kids and your family dog may squeeze into your current mode of transportation, but if you're serious about beaching it, you need more.
It's no news that these cars are ideal for summer travel, highlights to seal the deal for die-hard DRIVERS.
*Four-wheel-drive jeeps provide total beach access to FUN!
*Going topless, there's nothing quite like it in a Jeep OR Sports Car
*Only enough room for two in your sports car, this is a good thing!
*Jeep Cherokee offers the advantages of an ultimate adventure mobile with added luxury for long trips 
*Most jeeps have a reasonably low base price so a used Jeep Wrangler or even a Rubicon are feasible options!
*If you've never driven a convertible classic like the 1968 Chevrolet Camaro then call me, it's an experience everyone should have 
*5-6 speed manual transmission puts you in control of every peak and valley
*Sunroof and T-tops are standard options, awesome for sunny days and starry nights
*Bose, Infinity, & Blauplunkt sound systems are the norm, a necessity for cruising
*Most handle athletically for speedy turns, yet have comfortable interiors for long trips
*All the luxury options that you want, AC and power everything are usually standard
A weekend jaunt to the woods with all your gear begs for a roomy Ford Explorer or if you need more cargo room AND four doors then this loaded 2012 Ford F-150 will do the job perfectly! A few hours in most cars are doable, but for a family excursion along the coast or to the mountains, your time at the wheel is much more of a consideration. Make it count from driveway to journey's end.
Road hugging, sporty, and fast or off-road adventurous driving, these vehicles welcome the challenge. Two door coupes and convertibles or four door, four wheel drive SUVs and trucks, fun awaits!
Think About Which Car is Right for YOU
You may not always have the need for speed and adventure but when you do… nothing satisfies better than putting some distance between you and home. See TM Auto's inventory
Wherever the journey takes you, make every mile a memory. Your journey begins and ends with transportation and your ride can make or break the experience. Buy your vehicle with your journey in mind and you'll never regret it. Sure, we all have a need for our daily driver, a trusty shuttle is essential. However, traveling in these can be great or not so great, depending on where you're going and who's tagging along. When selecting your car, it's smart to look at the bigger picture. Whether you're planning a perfect family beach day or a weekend camping trip, how you get to the promised land is important. Having the right vehicle for the occasion is vital so the journey is as memorable as the destination itself.
Every family, big and small, has different needs. There are plenty of makes and models to go around and one to fit every lifestyle and budget. Whatever your adventure and whichever vehicle you prefer, let me help you get there!  Please browse my website and See TM Auto's Inventory. Choose from a wide variety of used vehicles.