Every devoted truck owner favors a particular make, model, 4 or 2 wheel drive, and diesel or gasoline engine. Though we all have opinions on Gas vs Diesel when it comes to greater power, longevity, and fuel efficiency, we may not have all the facts. A shootout between these long time rivals should provide you with more ammo for pulling the trigger on Gas vs Diesel. 
Truck Wars
Henry Ford's vision of a converted military truck for civilians came to fruition In 1917 when he produced what may
be considered the first American made pickup truck — the gas powered Ford Model TT. Chevrolet answered back In 1918 with the Model 490. In 1925 Ford edged ahead of Chevrolet with the Ford Model T Runabout factory-built pickup, equipped with a four-cylinder 40 horsepower engine. Chevrolet answered with the Chevrolet Independence in 1931. This tug of war would continue until 1948 when Ford introduced the F-Series, which became the best selling truck in America and reigns supreme today. 
Gasoline
Today gas provides truck owners affordable fuel costs, a lower sticker price (as much as 2'500-4'000 less with the gap still widening), and lower maintenance costs. Gas scores more convenience points than diesel when it comes to availability on the road. Surprisingly the fuel economy advantage in light and medium duty diesel trucks is often less than 2 mpg. Gas engines have the edge when it comes to horsepower but diesel has the torque, so in short-term torque applications gas and diesel are equal. Gas may have the win in this class of truck being least expensive overall. 
Diesel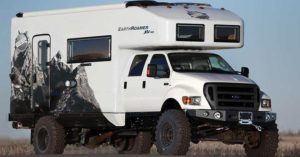 Diesel… according to Urban dictionary; Unstoppable at something, awesome or strong, physical power, great, cool, or sexy. That's a pretty impressive resume for an engine from anyone's point of view! The first production diesel engine was introduced by Benz in the early 1920's while the US was still using gas powered trucks through the 1970's. In 1983 Ford released the first Diesel F250 with the 420-cubic inch, 6.9L V8 diesel engine capable of putting out 175 horsepower and 318 lb.-ft. of torque. Followed In 1995 by the 7.3L turbo diesel "Power Stroke" engine packing 210 horsepower and 425 lb.-ft. of torque, available for the Heavy Duty F-250 and F-350 pickups. The Super Duty Diesel was here to stay. "By design, diesel engines operate with a combustion process that's leaner, burning less fuel than a conventional spark ignition (gasoline) engine," explained Roger Gault, technical director, Truck & Engine Manufacturers Association (EMA). Today diesel trucks are well known for providing enhanced towing and a greater engine life compared to gasoline. Whether it's a Ford, Chevy, GMC, Honda, Jeep, Nissan, Ram, or Toyota, diesel packs a powerful punch but as the list below shows, not in every category. 
Fuel Efficiency:

Compared to gasoline engines in most trucks, diesel engines earn an average of 30% to 35% greater fuel efficiency.

Fuel Cost Per Gallon

: Most gas stations around have a diesel gas pump, but not all. Added with that inconvenience, diesel fuel is often more expensive on average than gasoline.

Towing Capacity and Trailering

: Diesel engines have a torque advantage at a lower RPM than gas engines that is better suited to towing heavy loads than a gasoline engine. 

Maintenance Costs

: Diesel engines are made from components that are difficult to find or may require more frequent repair costs due to the larger oil reservoir in diesel engines.

Engine Longevity

: Diesel engines are often made from more sturdy materials and therefore, diesel engines last longer on average compared to gasoline engines. 

Environmental Impact

: Due to diesel's fuel economy advantage in long-term torque uses, it's

greenhouse gas emissions are comparable to gasoline in similarly equipped vehicles.
Only you can decide if gas or diesel is the better choice for you and your trucking needs , but thanks to a variety of options and clear differences in performance, fuel cost per gallon, towing capacity and long term maintenance costs we have winners on both sides. Have questions? Call or text Mike Love at (757) 560-4252, I have answers.
Keep on Truckin' folks!
TM Auto Wholesalers, Chesapeake Va
Sources:
Mcbain02 "Diesel" www.urbandictionary.com June 11, 2013 Web.  Retrieved from: https://www.urbandictionary.com/define.php?term=Diesel
Staff "Diesel vs trucks pros and cons" www.allenturnerchevrolet.com Web. Retrieved from:   https://www.allenturnerchevrolet.com/diesel-vs-gas
Smith, Alison "History of American trucks: past to present" www.cjponyparts.com February 5, 2020 Web. Retrieved from: https://www.cjponyparts.com/resources/history-of-american-trucks  | 
Staff "Pros & Cons: Diesel vs. Gas in Class 3-4 Trucks"www.worktruckonline.com November 3, 2011 Web. Retrieved from:  https://www.worktruckonline.com/147984/pros-and-cons-of-gas-vs-diesel-in-class-3-4-trucks