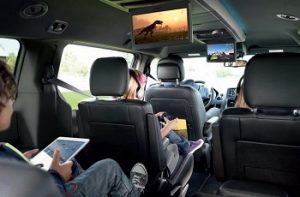 Remember your first car? Most of us inherited or purchased a starter vehicle about the same size as our checking account back then. I was single with no dogs and had a few less toys than today; it worked! My Toyota pickup did just fine for me; plenty of room, great gas mileage, no payments.
Fast forward 20 years and about 5 cars later; we have 3 children, 2 dogs, 4 paddle boards and lord only knows how many toys! Does this sound totally familiar? For growing families all across Hampton Roads, the challenge of packing everyone and everything in our vehicles borders on wizardry. It's only natural that as our families grow, so do our cars. Luckily there are vehicles for virtually every lifestyle and budget to fit us and our stuff.
           Even though our cars do more shuttling and shopping than cruising these days, style matters. This is one of the reasons that SUV's are one of my best sellers. With ample room for a family of 5-6, sophisticated entertainment systems, and the muscle to haul campers, boats, and other water craft, they remain a top choice. Most have optional 4WD and loaded interiors that rival any luxury car.  Don't rule out minivans; they're still one of the smartest choices available for growing families today. They offer ample room, comfort, and have great features for transporting the little ones like power sliding doors, entertainment systems, and built in window shades. Fold-flat third row seating is often standard and they are low to the ground for easy passenger (and toddler) loading. When comparing gas mileage to similar sized SUV's, the minivan is the clear winner. Multi-passenger vans are the ultimate "Family Haulers" with room for 8-9 and then some. These thirsty beasts are built for travel, cargo, and lots of people. From traditional body styles that seat up to 15 to modern tall vans seating 7-12, they are all rock solid options. These hefty transporters are a little lean on luxury, but hey, it's all about family.
        My car suggestions for growing families starts and ends with practicality. The Honda Odyssey is impressive on all fronts; an ideal choice. Equally popular is the tried and true Chevy Suburban. You may prefer instead, something a little smaller like the top ranked Toyota Highlander. Whether you want big, really big, or just a step up, make the best choice by doing a little test driving with your crew first. Everyone's situation is different so feel free to call or text 757-560-4252 and ask for Mike Love. I'll be happy to walk through your current situation with you!
Posted 06/16/2016 in TM AUTO Update
Family Cars,Best Family cars,Minivans,SUV,Multi-passenger vans,Chesapeake, TM Auto Wholesalers,Hampton Roads,